CA Vehicle Code 2800.1 VC
VC 2800.1 – Evading Police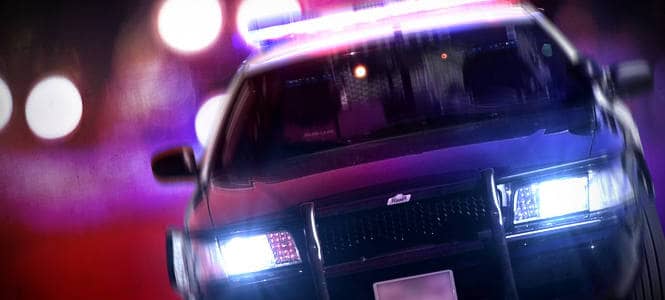 Evading Police – Table of Contents
Evading the Police Vehicle Code in California (VC 2800)
When police are in pursuit of a suspect in California, it is illegal for that person to flee and resist being arrested. If the person flees on purpose or on their own volition, they can be charged with evading police Vehicle Code under VC 2800.1.
This is a misdemeanor offense, and carries a maximum sentence of up to one year in county jail, up to $1,000 in fines, or both. Police also have a right to seize the vehicle used for the evasion if one was used.
Prosecuting California Evading Police Vehicle Code 2800.1 VC
To convict you of evading the police Vehicle Code 2800.1 VC in violation of the law, the prosecutor must prove:
You were driving a vehicle;
A police officer was pursuing you;
The police officer was also driving a motor vehicle;
You willfully fled or tried to evade the officer(s);
The police vehicle had a visible red light on the front;
You saw this light;
The police officer used his or her siren on the vehicle;
The vehicle was a distinctively marked police vehicle; and
The officer was wearing an official uniform.
As shown, there are many elements to this crime. The prosecutor bears the burden of proving each beyond a reasonable doubt. This means there can be no reasonable doubt as to any one single element of the crime if you are to be convicted.
Aggravating Circumstances and Related Charges
It is important to know exactly what you are being charged with when you go to court or speak with an attorney. Violating evading police Vehicle Code VC 2800.1 can result in a misdemeanor, but if the evading police Vehicle Code 2800.1 VC causes injury or death to another person, for example, it may be charged as a felony, which can double or even 10x your fine. Your jail sentence may be increased to three, five, or seven years in prison, as well. For more information on the more serious crime of "Felony Reckless Evasion", please see our article on CA VC 2800.2
Even reckless driving, if such occurs in the course of the evading police Vehicle Code 2800.1 VC, can be charged, and this could increase your fines or sentence.
Finally, resisting arrest at its most basic state can be charged in these circumstances, too. Resisting arrest is essentially delaying the administration of justice by preventing a law enforcement officer from making an arrest.
Defending against an Evading Police Vehicle Code 2800.1 VC Charge
Hiring a defense attorney is vital for you freedom and to ensure you are adequately represented in a court of law. A skilled attorney can ensure you are given the best defense possible, by knowing all the ways in which one can defeat a charge of violating Evading Police Vehicle Code 2800.1 VC.
For example, your attorney can prove to the court that there was some emergency on the road that prevented you from slowing or stopping when the officer got behind your car with sirens and lights flashing.
In addition, your attorney may be able to prove the police vehicle was not clearly marked as such, or lacked lights or sirens. If the officer was not in uniform you may be justified in failing to stop for him or her.
You attorney also has an opportunity to present evidence that indicates you did not flee or evade the officer on purpose. Part of the crime is the willful fleeing, so if you fled for any other purpose, you cannot be convicted.
Lastly, as mentioned above, if your attorney can cast reasonable doubt on any element in the evading the police Vehicle Code 2800.1 crime, you can be acquitted.
We Want to Help
If you or a loved one is being charged with Evading the Police Vehicle Code in violation of VC 2800.1 in California, we invite you to contact us immediately for a free case review. Schedule an appointment to meet with us in person, or feel free to submit an evaluation online and we will get in contact with you ASAP. We can provide a free consultation in our office located in Century City, or by phone.
Our experienced and assiduous Los Angeles Criminal Defense Lawyers will be sure to fight until the end to reduce or drop your charges completely.
Call Us for a FREE Case Review: 310-274-6529
What Our Clients Say
›
‹
Very sharp and very detailed! Thanks Paul you're one of the best in the business and you set an excellent example of a good quality attorney that cares!- Erick Glover

Chris demonstrated both a compassionate ear as well as a logical, realistic approach to the issues that arose. He consistently responded quickly to both email and phone correspondence.- Bonnie Tova

Chris has handled my contentious divorce case for the last year. He has listened to me and guided me along the way through the court system. I highly highly recommend him.- P.K.

Chris Moore was always extremely diligent and 'on point' with me every step of the way. He was honest, respectful, straightforward, and very competent. He exceeded my expectations.- D.A.