California Penal Code 653.22 PC
PC 653.22 – Loitering for Prostitution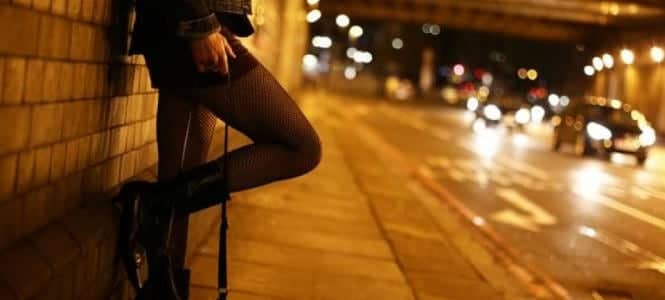 Loitering for Prostitution – Table of Contents
What is "Loitering for Prostitution" Penal Code 653.22 in California?
Engaging in Loitering for Prostitution Penal Code 653.22 is commonly known to be a crime, which it is in California under Penal Code Section 647(b)– essentially an agreement for the performance of a sexual act in exchange for a fee. What is less commonly known is that it is also a crime to simply loiter in a public place with the intent of loitering for prostitution Penal Code 653.22 or a John (a John being a well-known term for the person who pays the prostitute money in exchange for sex).
Loitering for Prostitution in accordance with PC 653.22 does not require that the defendant interacts with another person.
According to the CalCrim 1156 Jury instructions, to be guilty of loitering for prostitution Penal Code 653.22, the prosecutor must prove that the person in question delayed or lingered in a public place, without a lawful purpose, and intended to commit loitering for prostitution Penal Code 653.22.
The following are some examples:
A scantily dressed woman walks back and forth on a street and attempts to engage men passing by on foot or in cars in conversation;
A man in a car repeatedly circles a block where scantily dressed women are wearing high heels and engage these women in conversation- the man in the car may be arrested for loitering for prostitution Penal Code 653.22;
A woman repeatedly stops or tries to stop cars by gesturing to them to pull over in a way that suggests she is trying to solicit for loitering for prostitution Penal Code 653.22.
Let's look closer as the requirements that need to be proved against someone for loitering for prostitution Penal Code 653.22.
What does it mean to be in public?
First, it is a requirement that the defendant delayed or lingered in a public place. A public place is an area that is open to the public- for example, a movie theater, a bowling alley, a restaurant, and also includes doorways or entrances to a building or a house, or the ground surrounding them. Even driving around in your car is considered a public place.
What does it mean to "Intended to Commit Prostitution?"
In order to be found guilty of this crime, the prosecutor must prove, beyond a reasonable doubt, that you intended to engage in prostitution while loitering in a public place. The law defines specific factors that should be considered when deciding if the defendant intended to commit prostitution. These include:
Does the person's behavior appear to indicate someone engaging in prostitution? (See examples above)
Has the person been arrested for prostitution-related conduct within the last 6 months?
Has the person be convicted of any prostitution-related crime within the last 5 years?
These are only some of the factors a finder of fact (i.e. Judge or jury) may consider. The law specifically instructs that all the evidence is to be considered, so the decision will be based on the totality of the circumstances. For instance, the giving of fake or false information to a police officer upon questioning or carrying condoms might show the intent to loiter for prostitution.
What is the definition of Prostitution?
loitering for prostitution Penal Code 653.22 is the intention to engage in sexual conduct with someone else in exchange for money or something else of value. Sexual conduct is defined as sexual intercourse or touching the genital, buttocks, or female breasts of either the prostitute or customer with some part of the other person's body for the purpose of sexual arousal or gratification. However, a strip club performance, play, or other entertainment for the public is not prostitution.
What are other crimes are related to loitering for prostitution Penal Code 653.22 PC?
Other crimes that are connected or related include the following:
How Can I Defend Myself from a PC 653.22 Charge?
A lack of evidence that you committed the offense of loitering for prostitution Penal Code 653.22 can be a defense.
A Judge or jury looks at the totality of circumstances when deciding if there's enough evidence of guilt beyond a reasonable doubt. As you've probably gathered by now, many of the factors listed are subjective and require a great deal of interpretation. Seen from a police lens even completely innocent behavior can be interpreted as criminal activity. And because there is broad discretion in subjective factors like this, the police can simply arrest someone based on completely innocent behavior. For example, in my practice, I have seen over-and-over men who pull over to talk to a woman (whose actually an undercover police officer posing as a prostitute) with no intention of paying for sex- only to flirt with and enjoy a short conversation with an attractive woman.
Inevitably they are arrested and charged, even though they committed no crime.
Because the law gives so much discretion to arrest, an experienced expert criminal lawyer can help you navigate your way through the system and potentially get your case dismissed.
For instance, a charge of PC 647(b) for Prostitution can be reduced to loitering for prostitution Penal Code 653.22 for loitering, a lesser offense. Also, a common reduction is also to 303a, loitering to solicit the purchase of alcohol.
What are the Penalties for Loitering for Prostitution?
Pimping and pandering laws were introduced into California judicial system in an attempt to reduce the amount of prostitution. With this being said, the courts take these crimes very seriously. California Penal Code 266(h) states that it is illegal to pimp in the state of California and defines pimping as the act of collecting some or all of a prostitute's pay. Pandering, California Penal Code 266(i), pertains to laws that discourage recruiting or encouraging someone to become a prostitute. Both of these crimes are felonies and if convicted of either Penal Code 266(h) or Penal code 266(i) one could face 3, 4, or 6 years in state prison.
We Want to Help
By using a criminal defense attorney like Seppi Esfandi, loitering for prostitution Penal Code 653.22 charge can be handled discretely and promptly with little effect on you. Seppi Esfandi is an Expert Los Angeles Criminal Defense Attorney with extensive practice in loitering for prostitution Penal Code 653.22 cases and has a great record of having these cases dismissed.
If you or a loved one is being charged with violating the loitering for prostitution Penal Code 653.22 law, we invite you to contact us immediately for a free case review. Schedule an appointment to meet with us in person, or feel free to submit an evaluation online and we will get in contact with you ASAP. We can provide a free consultation in our office, or by phone. Our experienced and assiduous attorneys will be sure to fight until the end to reduce or drop your charges completely.
Call Us for a FREE Case Review: 310-274-6529
What Our Clients Say
›
‹
Very sharp and very detailed! Thanks Paul you're one of the best in the business and you set an excellent example of a good quality attorney that cares!- Erick Glover

Chris demonstrated both a compassionate ear as well as a logical, realistic approach to the issues that arose. He consistently responded quickly to both email and phone correspondence.- Bonnie Tova

Chris has handled my contentious divorce case for the last year. He has listened to me and guided me along the way through the court system. I highly highly recommend him.- P.K.

Chris Moore was always extremely diligent and 'on point' with me every step of the way. He was honest, respectful, straightforward, and very competent. He exceeded my expectations.- D.A.