Penal Code 26500 PC
PC 26500 – Selling Firearms Without a License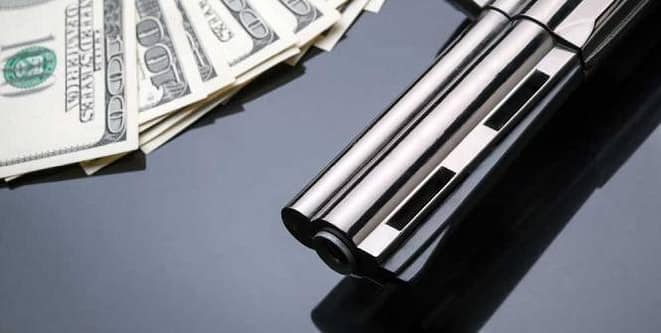 Selling Firearms Without a License – Table of Contents
Penal Code 26500 PC
How is selling a firearm without a license defined under PC 26500?
It is unlawful for a person to sell, lease, or transfer firearms unless that person has a license that complies with Penal Code 26700 PC and Penal Code 26800 PC.
What is the protocol under PC 26700 to avoid a violation of PC 26500?
Penal Code 26700 PC is a procedural mechanism, it is a check and balance requisite that everyone wanting to be a firearm dealer in the State of California must adhere to. To sell a firearm you must have clearance from the State and Federal level because of the transportation of firearms.
Penal Code 26700 PC provides that to be a dealer in the State of California selling firearms the applicant must:
Have a seller's permit from the California Board of Equalization,
Have a Certificate of Eligibility from the California Department of Justice (DOJ);
And the license meets the protocol proscribed in Penal Code 26750 PC;
And the license must meet the format described under Penal Code 26715 PC.
What is the purpose of getting a seller's permit from the California Board of Equalization?
A permit from the Board of Equalization allows the applicant to sell tangible property on a commercial and private basis in the State of California. Guns are considered tangible property. Board of Equalization ensures that all people based on: race, color, creed, nationality, religion, sexual orientation, and gender can do the same.
What is a certificate of eligibility as provided from the California Department of Justice (DOJ) under Penal Code 26710 PC?
It is certification stating that you meet the background checks implied from the National Instant Criminal Background Check System. This system will indicate if the applicant has the right to own, sell or buy firearms. If the applicant can meet the requirements the applicant can move forward in getting processed to receive a dealer permit to commercially sell firearms in the State of California.
What is the protocol under PC 26705 to avoid a violation of PC 26500?
Penal Code 26705 PC is the process to determine whether an applicant can move forward to get a permit to become a commercial dealer of firearms in The State of California. Penal Code 26705 PC requires that:
The Attorney General's Office inform the applicants whether they are approved for a permit or license;
Once the previous two steps are completed, the applicant will receive a certificate by the Attorney General's Office, with the designation of "Valid for Retail Sales of Firearms" on the face of the certificate, with a letter of compliance.
What is the purpose of Penal Code 26715 PC is this a recording statute for applicants wanting to become firearm dealers in The State of California?
The recording statute is the Deadly Weapons Recodification Act of 2010. The Act amended provisions regulating permits to sell concealed weapons (CCW), in order to make the issuance more discretionary; but it leaves open the option for any licensing or enforcement agency to remove a dealer from the registry if they are grossly negligent in the sale of concealed weapons to others in a grossly negligent matter.
What is the significance of Penal Code 26800 PC in relation to Penal Code 26500 PC?
Penal Code 26800 PC is a containment Statute. There are criminal penalties that can be assessed when a dealer possessing a permit does not properly store firearms, firearm accessories and ammunitions as warranted by state and federal mandates.
Specifications include:
A fireproof safe or vault on the premises of the business; and
A steel lock mechanism that secures the vault's door or entrance. If not, the dealer's license is subject to forfeiture with or without prejudice.
Sentencing Penal Code 26500 PC
What are the penalties involved in a violation of Penal Code 26500 PC?
Apart from the possibility of forfeiture of the dealer's permit, certificate, and license to commercially sell, transport and present firearms in the State of California and the fines and fees assessed from non-compliance; a violation of Penal Code 26500 PC is a general misdemeanor. Punishment includes confinement not exceeding 1 year in jail and fines not exceeding $1000 dollars.
What are examples of violations of Penal Code 26500 PC?
Penny, the daughter of a well-known firearm seller, is in the process of applying for a dealer license. While applying, she was arrested and convicted Penal Code 26100 PC. Although she did not shoot at people, she was sighted by CHP shooting fowl from her car with her boyfriend on a desolate interstate. She did not report this offense on her application for the permit. The DOJ upon running her background check discovered the discrepancy and informed her that she is unable to move forward with her application. Although the DOJ sent a similar compliance letter to her home address, she threw the letter away. A week passed, and her father inquired about her compliance, she told him that, "It is a done deal poppa bear". Trusting his daughter, he allowed Penny to close the firearms store. When he left, Penny invited her boyfriend over, and they began testing out a new shipment of AR-15s by unwrapping the cargo. When they were finished, and attempted to re stock the weapons, she left the safety off on one of the guns leading it to misfired a round into her boyfriend's leg. He went to the ER. His parents called the police. Penny and her father were arrested. The DOJ forfeited her father's license with prejudice.
Defending Penal Code 26500 PC
What are defenses to a violation of Penal Code 26500 PC?
Mistake in Law- I am a member of the armed forces under an exception and government contract to sell concealed weapons to members of the armed forces.
Abuse of Process- During an audit of my inventory at my store the official conducting the audit violated due process or was negligent in following standards.
Accused of Possessing Destructive Device Materials?
If you are charged with violating Penal Code 26500 PC call The Esfandi Law Group.
Call Us for a FREE Case Review: 310-274-6529
What Our Clients Say
›
‹
Very sharp and very detailed! Thanks Paul you're one of the best in the business and you set an excellent example of a good quality attorney that cares!- Erick Glover

Chris demonstrated both a compassionate ear as well as a logical, realistic approach to the issues that arose. He consistently responded quickly to both email and phone correspondence.- Bonnie Tova

Chris has handled my contentious divorce case for the last year. He has listened to me and guided me along the way through the court system. I highly highly recommend him.- P.K.

Chris Moore was always extremely diligent and 'on point' with me every step of the way. He was honest, respectful, straightforward, and very competent. He exceeded my expectations.- D.A.