California Penal Code 532 PC
PC 532 – Theft by False Pretenses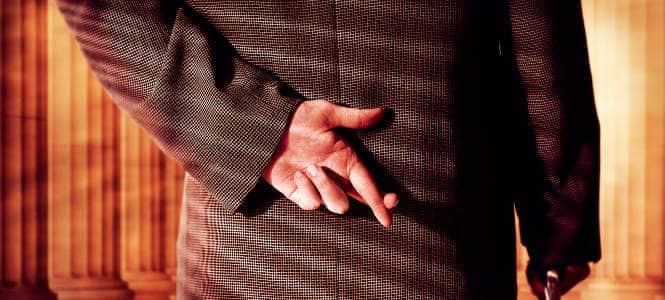 Theft by False Pretenses – Table of Contents
Theft by False Pretenses
Everyone is aware of theft crimes like robbery, burglary or grand theft, but there is another type of theft that involves tricking someone into giving up their property. According to Penal Code 532 PC "Theft by False Pretenses", a person cannot deceive another person with a lie or false pretense or promise that won't be kept.
In this sense, "Theft by False Pretense" is closer to fraud than a brute force crime like robbery.
Example: Giovanni buys a car from Paulina and gives her half of the payment in cash, promising to give the remainder of the money the next day. Paulina goes to meet Paul the following day for the rest of the money and his roomates tell her that he moved. She calls him and his phone is disconnected. Giovanni likely never intended to pay her the rest of the money and lied to her.
Penalties for Theft by False Pretense
Theft by false pretenses can be either petty theft or grand theft, depending on the value of the property that is taken, or the property that was stolen.
Grand Theft
If the property stolen is worth more than nine hundred fifty dollars ($950), a firearm or a car, then it is considered Grand Theft. Grand theft in California is a "wobbler", meaning it can be tried as either a misdemeanor or a felony depending on the details of the case and your criminal record.
If the crime is tried as a misdemeanor then you face:
Up to one year in county jail
If the crime is tried as a felony then you face:
Up to three years in state prison
If you used a gun during the offense then the crime is automatically tried as a felony.
Petty Theft
If the property is worth less than nine hundred fifty dollars ($950), then false pretense theft is Petty Theft. Petty theft in California is a misdemeanor. If a defendant is found guilty and convicted of petty theft they could face:
Up to six (6) months in county jail
Up to $1,000 in fines
Informal probation
The stakes are raised if you have had prior theft convictions, and is considered "Petty Theft with a Prior".
Prosecuting Penal Code 532
Concrete proof that a defendant deceived with a false pretense beyond a reasonable doubt is difficult to obtain many times in these cases. This proof can be in any of the following forms:
A false document that accompanied the false pretense
A note or contract of the false pretense signed or handwritten by the defendant
Testimony from at least two witnesses that the defendant made a false pretense, OR
Testimony from one witness plus additional evidence supporting the conclusion that the defendant made the false pretense
It is not enough for the alleged victim to simply claim that they were duped. There needs to be concrete evidence to support the claim before charges can be filed.
Defending Penal Code 532 Theft by False Pretenses
Lack of intent
Theft by False Pretenses requires the element of intent in order to be convicted of the crime. If you did not intentionally attempt to deceive someone, then you are not guilty of Penal Code 532. The deception can be in the following forms:
You lied to someone
You withheld crucial information that mislead someone
You recklessly claimed a truth without knowing if it really was true, OR
You promised something that you never actually intended to do.
It's very difficult for the prosecution to prove your intent to deceive beyond a reasonable doubt. It's highly possible that you never intended to break the promise or said false pretense, or perhaps you genuinely believed something you said when you said it.
Mistake of Fact
You may have had the facts wrong yourself, and it was merely a mistake that things turned out the way they did. The details of the case are important, and usually involve business or financial dealings over time. Best to consult with a defense attorney to discuss the details of your case.
Lack of reliance
Another important element of the crime of theft by false pretenses is that the supposed "victim" of your crime has to have relied on the theft by false pretenses in giving you their property.
The alleged "victim" of theft by false pretense must have relied on a valid false pretense when they handed over their property. Oftentimes, they knew the risks involved and when things don't go as expected they decide to twist it into a criminal matter. If your defense attorney can prove that the other party was not coerced by deception, then you will not be guilty of theft by false pretense.
These are very general defense strategies for PC 532 theft by false pretenses, there are several more and each case requires knowledge of the details. It's best to consult a qualified criminal defense lawyer regarding your case.
We Want to Help
If you or a loved one is facing PC 532 charges, Theft by False Pretenses, it's imperative to discuss your case with a criminal defense attorney immediately. Seppi Esfandi is an Expert Los Angeles Criminal Defense Attorney and has experience defending California in a variety of crimes, including "Theft by False Pretenses".
Call Us for a FREE Case Review: 310-274-6529
What Our Clients Say
›
‹
Very sharp and very detailed! Thanks Paul you're one of the best in the business and you set an excellent example of a good quality attorney that cares!- Erick Glover

Chris demonstrated both a compassionate ear as well as a logical, realistic approach to the issues that arose. He consistently responded quickly to both email and phone correspondence.- Bonnie Tova

Chris has handled my contentious divorce case for the last year. He has listened to me and guided me along the way through the court system. I highly highly recommend him.- P.K.

Chris Moore was always extremely diligent and 'on point' with me every step of the way. He was honest, respectful, straightforward, and very competent. He exceeded my expectations.- D.A.