Vehicle Code 10501 VC
VC 10501 – Filing a False Report of an Auto Theft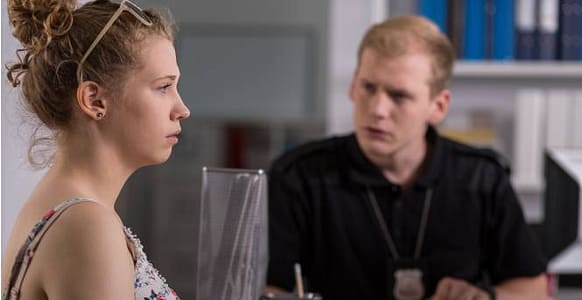 Filing a False Report of an Auto Theft – Table of Contents
Vehicle Code 10501 VC: Filing a False Report of an Auto Theft – Overview
What is the definition of filing a false report of an auto theft under VC 10501?
It is unlawful for any person to make or file a false or fraudulent report of theft of a vehicle required to be registered under this code with any law enforcement agency with intent to deceive.
Is Vehicle Code 10501 VC a specific intent crime?
Yes. A requirement for a violation of Vehicle Code 10501 VC is the specific intent to deceive or defraud. An owner of a vehicle has the specific intent to deceive, by stating a vehicle owned was stolen, and making that assertion on a report for an official investigation, to an enforcement agency whose official capacity would be to investigate the allegation.
What are the definitions of false or fraudulent reports of theft under VC 10501?
A false statement and the report to which the statement will be incorporated are distinct under Vehicle Code 10501 VC. The owner of the vehicle can write statements onto a report or instruct another to do the same. Once those statements are incorporated. Allegations of auto theft can be communicated to an administrative agent of any entity that would transmit those assertions in developing an investigative report.
An example includes 911 operators. 911 operators are administrator at an office associated with an enforcement agency. Their perception and recordation of the accounting facts concerning the false statements get transferred to an inter-office report that is sponsored by an enforcement agency.
Most reports have a signature designation that request that the author of the allegation offer these statements against perjury or to be subjected to the crime of perjury by their signature. Signing the document itself illustrates the intent to deceive.
What is the definition of a law enforcement agency under Vehicle Code 10501 VC?
Law enforcement agencies, as designated under Vehicle Code 10501 VC are those designated to employ peace officers. A peace officer is any person required to be trained by the Police Officer Standard and Training (POST) procedures who regulate registration procedures of, and crimes against all vehicles registered in the State of California.
Sentencing for Vehicle Code 10501
What are the penalties for a violation of Vehicle Code 10501 VC?
A violation of Vehicle Code 10501 VC can be punished as a misdemeanor or felony. As a misdemeanor the penalties include confinement in jail not exceeding 1 year, and fines not to exceed $1000 dollars. A subsequent conviction is charged as a felony with confinement not exceeding 16 months, 2 years, or 3 years in prison.
What are examples of violations of Vehicle Code 10501 VC?
Todd drives to another state, parks his car in a storage unit and takes a bus back home. When he arrives at home, he calls 911 and tells the officer his car was stolen. Because of the high dollar value of the vehicle, and its electronical components, the Sheriff's Department, that same night was able to get clearance from the manufacture to locate the digital footprints of the car using the Low Jack system. The last coordinates of the car led cooperating investigators to the same out of state storage unit. Todd was arrested for filing a false police report.
Jessie contacted the LAPD concerning his car being stolen at the local waffle house. Jessie went to the LAPD office and filed a report. Jessie also filed a claim with his insurance company. An investigation resulted in surveillance footage at the restaurant demonstrating Jessie getting out of his vehicle shaking someone's hand, giving that person his keys, who gave Jessie money in return. As a result of the footage Jessie was arrested.
Defending Vehicle Code 10501
What are examples of defenses for a violation of Vehicle Code 10501 VC?
Mistake in Fact – I really believed my car was stolen but it was taken by someone who had a primary possessory interest in the vehicle (Repossession).
Lack of Specific Intent
Voluntary Intoxication
Need a Lawyer?
If you are charged with a violation of Vehicle Code 10501 VC call The Esfandi Law Group. Contact Los Angeles criminal defense attorney Seppi Esfandi, principal attorney of The Esfandi Law Group.
 
Need a Criminal Defense Attorney? CALL NOW: 310-274-6529
Seppi Esfandi is an Expert Criminal Defense Attorney who has over 20 years of practice defending a variety of criminal cases.
What Our Clients Say
›
‹
Very sharp and very detailed! Thanks Paul you're one of the best in the business and you set an excellent example of a good quality attorney that cares!- Erick Glover

Chris demonstrated both a compassionate ear as well as a logical, realistic approach to the issues that arose. He consistently responded quickly to both email and phone correspondence.- Bonnie Tova

Chris has handled my contentious divorce case for the last year. He has listened to me and guided me along the way through the court system. I highly highly recommend him.- P.K.

Chris Moore was always extremely diligent and 'on point' with me every step of the way. He was honest, respectful, straightforward, and very competent. He exceeded my expectations.- D.A.