Penal Code PC 487(a)(2) PC
Vehicle Code 17004.7 — Police Liability During Chases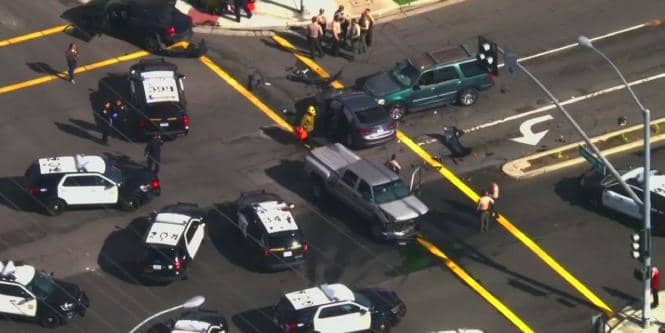 Police Liability During Chases – Table of Contents
VC 17004.7 Police Liability During Chases – Overview
High-speed police chases can get messy. While they are dangerous and come with broad risks, they're a necessary part of the job. But what happens if a police officer causes harm to another driver or damages a building during a high-speed chase? Are they held liable? Or are they protected by law? CA Vehicle Code 17004.7 provides some guidance.
What is CA Vehicle Code 17004.7?
According to the California Vehicle Code 17004.7:
provides public agencies employing peace officers immunity from damages for collisions resulting from police chases if, but only if, the agency 'adopts and promulgates a written policy on, and provides regular and periodic training on an annual basis for, vehicular pursuits . . . .' ([Section] 17004.7, subd. (b)(1).) Promulgation of the written policy must include 'a requirement that all peace officers of the public agency certify in writing that they have received, read, and understand the policy.' (Id., subd. (b)(2).)
So, police officers will receive immunity from any damages for collisions that result from police change as long as the department has adopted and published a written policy on police chases and provides regular training on high-speed price chases. Part of the policy must also require all officers to certify in writing they have received, read, and understood the policy.
What Should be Included in the Vehicle Pursuit Policy?
According to CA Vehicle Code 17004.7, the policy for the safe conduct of motor vehicle pursuits should meet the following standards:
Determine what circumstances warrant a pursuit while also addressing the importance of protecting the public and balancing the suspected offense and the need for immediate capture against the risk to officers, other motorists, and the public.
Determine the total number of law enforcement vehicles that will be authorized to participate in pursuit, as well as the number of law enforcement units and supervisors. Detail each authorized unit, supervisor, and officer's responsibilities and roles. Specify when additional units are authorized.
Set forth procedures and expectations for communication during a pursuit, including coordination of the pursuit.
Determine the supervisor's role in managing and controlling the pursuit.
Determine driving tactics and the circumstances in which the tactics will be deemed appropriate.
Determine authorized pursuit intervention tactics and under what circumstances each tactic is authorized, such as:
Blocking
Ramming
Boxing
Roadblocks
Determine what factors officers should consider when determining their speed throughout a pursuit.
Determine when to discontinue a pursuit based on factors such as:
Ongoing risk to the public or officer(s).
Vehicular and/or pedestrian traffic safety and volume.
Weather conditions.
Traffic conditions.
Availability of air support
CA Vehicle Code 17004.7 and the Supreme Court
The California Supreme Court recently upheld immunity for police pursuit damages in Ramirez v. City of Gardena, which was filed in August of 2018.
The case stemmed from a police pursuit in the city of Gardena in which police employed a Pursuit Intervention Technique (PIT) to the left rear of a suspect's pickup truck. This caused the truck to spin into a streetlight pole. A passenger in the truck, Mark Gamar, died from injuries sustained in the crash, which resulted in his mother, Irma Ramirez, filing a wrongful death lawsuit against the city of Gardena.
The city moved for summary judgment on the grounds that it was immune under CA Vehicle Code 17004.7. The Supreme Court brought up the question of whether it was enough for police departments to have a requirement for a written policy on police pursuits, or should they be responsible for proving not only they imposed the requirement but that also all of the department's officers complied with it?
Remember, under VC 17004.7, a peace officer "is not liable for civil damages on account of personal injury to or death of any person or damage to property resulting from the operation, in the line of duty, of an authorized emergency vehicle while responding."
The Supreme Court concluded that immunity will be provided in accordance with VC 17004.7 as long as the police department's policy contains the requirement that all officers have certified that they have received, read, and understood the policy.
VC 17004.7 – Hire Us
If you've recently been involved in a police chase in the Los Angeles area, contact Seppi Esfandi today for a free consultation. The sooner you reach out, the sooner we can get to work on getting your case drastically reduced or dismissed entirely.
Need an Attorney? CALL NOW: 310-274-6529
Seppi Esfandi is an Expert Attorney who has over 21 years of practice defending a variety of cases.
What Our Clients Say
›
‹
Very sharp and very detailed! Thanks Paul you're one of the best in the business and you set an excellent example of a good quality attorney that cares!- Erick Glover

Chris demonstrated both a compassionate ear as well as a logical, realistic approach to the issues that arose. He consistently responded quickly to both email and phone correspondence.- Bonnie Tova

Chris has handled my contentious divorce case for the last year. He has listened to me and guided me along the way through the court system. I highly highly recommend him.- P.K.

Chris Moore was always extremely diligent and 'on point' with me every step of the way. He was honest, respectful, straightforward, and very competent. He exceeded my expectations.- D.A.