18 USC Section 1961(1)
Racketeering and Corrupt Organizations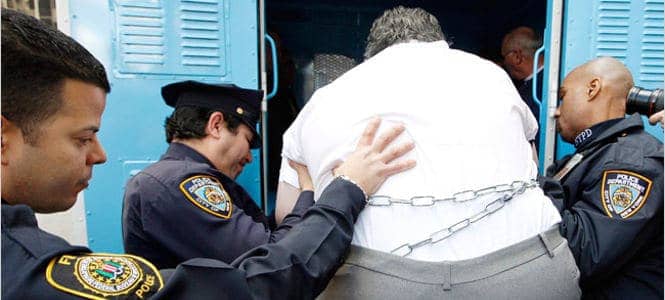 Racketeering and Corrupt Organizations – Table of Contents
Racketeering and Corrupt Organizations Overview
One of the longest running values of the law in the United States is centered on the idea that one person cannot be held to answer for the racketeering and corrupt organizations crimes of another. However, with the rise of organized crime, and the multiple ways its leaders insulated themselves from the "dirty work," law enforcement was at a severe disadvantage.
The Racketeering Influence and Corrupt Organizations Act, known as RICO racketeering and corrupt organization, allowed those leaders to be held accountable for the acts of underlings that leaders ordered, or assisted in the commission of. Instead of escaping accountability for not actually murdering someone, mob bosses could go to prison for helping facilitate a crime; overall a big win for prosecutors.
What Kinds of Activities Does RICO racketeering and corrupt organizations Cover?
At its core RICO is about racketeering and corrupt organizations, and the myriad of offenses that fall under racketeering. The key question becomes: what is racketeering and corrupt organizations? The definition is in 18 U.S.C. section 1961 (1).
Racketeering and Corrupt Organizations is:
Any act or threat involving any one of the following list of offenses:
Murder
Kidnapping
Gambling
Arson
Robbery
Bribery
Extortion
Selling or distributing obscene material
Selling drugs or other controlled substances; AND
Is chargeable as a felony by any state law. This means that the above offense cannot be for a mere misdemeanor.
Any act which is indictable under any of the following provisions of title 18, United States Code (list is not exhaustive):
Bribery
Sports bribery
Offenses relating to counterfeiting
Theft from interstate shipment as a felony
Embezzlement from pension and welfare funds
Relating to extortionate credit transactions
Fraud in connection with identification documents
Fraud in connection with access devices
Offenses obscene matter and obstruction of justice
Interstate transportation of stolen property
The above list is incomplete, and you should consult a licensed criminal defense attorney to help you understand where your case may be covered by RICO racketeering and corrupt organizations.
However, the listed offenses do make sense when you remember that this is an anti-organized crime law. All of the offenses you would expect organized crime to be involved in are listed: murder, drugs, extortion, gambling, arson, prostitution and bribery. The law does not stop there though, offenses like theft, welfare fraud, human trafficking, and obstruction of justice are also listed.
The analysis does not end there. What glues a seemingly uninvolved individual to the listed crimes above is that individual's connection to the criminal "enterprise."
An enterprise can include ANY group of people, or even an individual, whether it is one formed under official rules of law in a state, or otherwise. This includes criminal street gangs, fraternities, and hate groups.
So now you have the necessary tools to see how RICO racketeering and corrupt organization was intended to work. A boss or leader who is part of an "enterprise" that engages is the kinds of offenses listed above, is the kind of person RICO racketeering and corrupt organizations was designed to prosecute. The boss may have never seen or ordered the murder, or the theft, or the welfare or mail fraud, but because they are part of an "enterprise" that usually engages in that conduct, they can be prosecuted.
Penalties
RICO provides for a 20-year stint in federal prison, a fine, or both, along with a variety of civil penalties that could include losing one's personal assets. Penalties can include up to life in prison under some circumstances.
Speak with a licensed Los Angeles Criminal Defense Lawyer to fully understand the potential penalties your case may present.
Call Us for a FREE Case Review: 310-274-6529
What Our Clients Say
›
‹
Very sharp and very detailed! Thanks Paul you're one of the best in the business and you set an excellent example of a good quality attorney that cares!- Erick Glover

Chris demonstrated both a compassionate ear as well as a logical, realistic approach to the issues that arose. He consistently responded quickly to both email and phone correspondence.- Bonnie Tova

Chris has handled my contentious divorce case for the last year. He has listened to me and guided me along the way through the court system. I highly highly recommend him.- P.K.

Chris Moore was always extremely diligent and 'on point' with me every step of the way. He was honest, respectful, straightforward, and very competent. He exceeded my expectations.- D.A.